INSIDE THE MARRIOTT
WORLD TRADE CENTER
HOTEL
Click The Pictures For Larger Version
The following pictures were taken inside the Marriott World Trade Center Hotel. These photos were taken during Conventions for the Sixties Gothic Show "Dark Shadows".

Dark Shadows fans lounging in the lobby.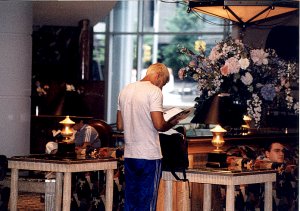 This shot was taken from the left end of the lobby. Straight ahead was the Grand Ballroom and the walkway into the North Tower of the World Trade Center.

Looking in the opposite direction would lead to the front desk and Tall Ships Restaurant.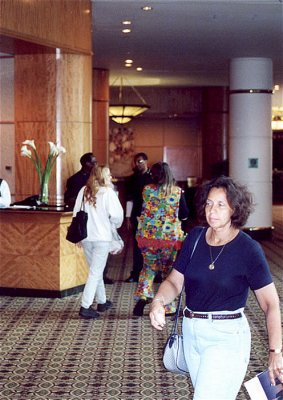 Playful guests descending the stairway in the main lobby.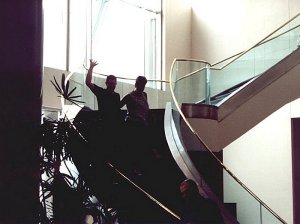 Guests in the lobby after a recent Dark Shadows Convention Banqet.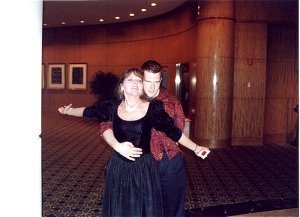 This photo was taken in the walkway portion of the lobby that led to the North Tower entrance. Here you see convention guests outside the entrance to the Grand Ballroom.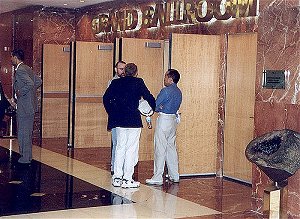 Directly inside the Grand Ballroom.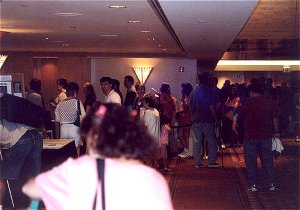 Child actress Sharon Smyth from Dark Shadows on stage in the Grand Ballroom.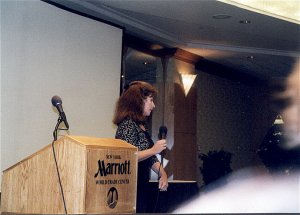 Another shot inside the Grand Ballroom shows actress Lara Parker presiding at the podium. Parker starred in Dark Shadows as Angelique.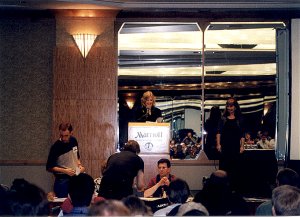 The following shots were taken inside one of the guest rooms at the Marriott.