THE WORLD TRADE CENTER
OBSERVATION DECK
NORTH VIEW
Click The Pictures For Larger Version
Looking across to the top of the North Tower. It appeared very close but was quite a distance in reality.

A closer view of the top of the North Tower. Look right above the telescope and notice the man standing in an odd looking contraption. That was the automated window washer. The entire thing moved around the top of the building on a track. If you look below the telescope on the bottom right side of the picture you will see the actual washing apparatus going down the side of the building. It took the machine one week to wash all the windows on one side. Thus each tower's windows were washed about every other month.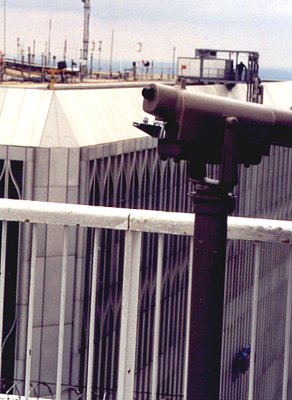 Another view of the top of the North Tower and the window washing robot.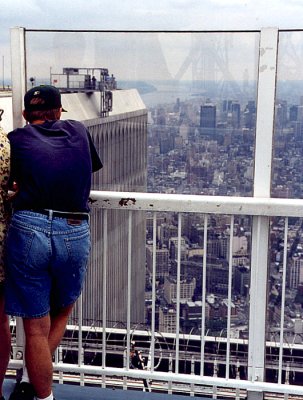 An even closer view.

Looking straight down on the North side gave a wonderful view of Vesey Street. The rust colored building was World Trade Center Seven. The white building is a federal building.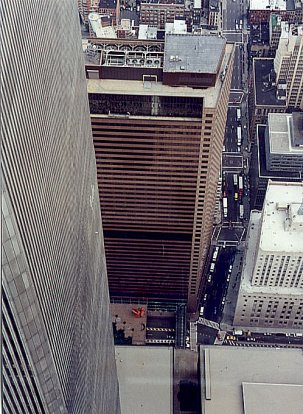 Looking straight ahead you saw Midtown Manhattan. The Empire State Building is in the center.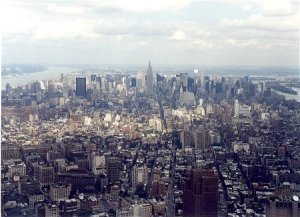 The same view looking a little more Northeast.

Zooming in gave a closer view of The Empire State Building.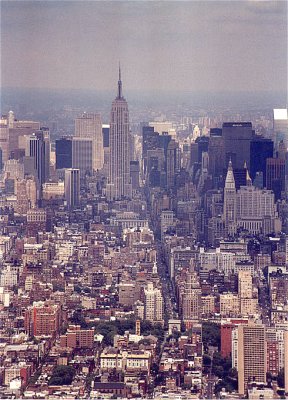 Another angle gave a closer view of The Chrysler Building.